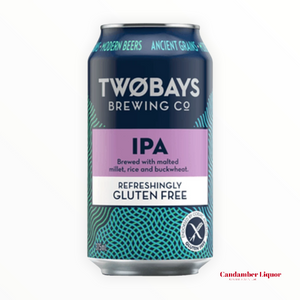 TwoBays Brewing IPA Beer - Gluten Free
Bursting with flavour and bite, giving off pine and fruity aromatics. It's also endorsed by Coeliac Australia! A beautifully-hopped IPA brewed with millet, buckwheat, rice; showcasing Simcoe and Mosaic hops.
As a dedicated gluten free brewery, TWOBAYS exclusively use gluten free malts (millet, buckwheat and rice) to brew all-grain craft beer and explore a new world of flavour.
In order to brew great gluten free beer, you need great ingredients. So TWOBAYS source the finest gluten free malts from world-leading craft malt houses in the US – there are no dedicated gluten free malt houses in Australia.