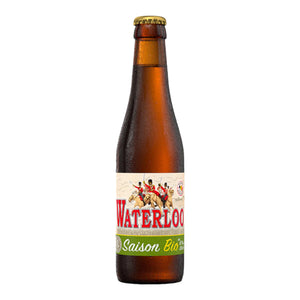 Timmermans Waterloo Organic Saison Beer - Belgium
Waterloo Saison Bio is a traditional, seasonal farm beer. It is brewed at the Mont-Saint-Jean farm with organic barley and wheat grown on the farm's fields.
COLOUR
This cloudy unfiltered beer has a bright yellow colour with a fine and delicate head.
AROMAS
These malted cereals give the beer a slightly crisp, bread-like aroma with floral notes.
FLAVOUR
The "seasonal" yeast used during the brewing process provides the typical dry character accompanied by the mild flavour of clove. The organic, 100% Belgian hops are responsible for the intense, persistent bitterness and the delicately spiced temperament.