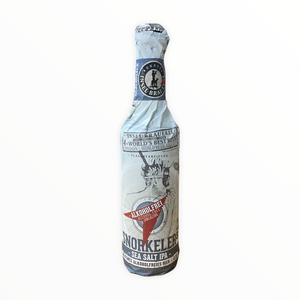 Insel Brauerei Snorkeler's Alcohol Free Sea Salt IPA - Germany
Insel Brauerei Snorkeler's Sea Salt is a non-alcoholic IPA brewed with Baltic Sea salt. 
The aroma is of florals and includes lychees and grapefruit. It has a full-bodied mouthfeel and hop bitterness rules the taste, with strong bitterness at the start and end of each sip and is around 40 IBUs. The salt notes are subdued and not overly apparent. 
Snorkeler's Sea Salt IPA has sparkling, fruity and bitter components that perfectly complement each other but it is Insel's masterstroke of adding Baltic Sea salt that makes this beer such a very special experience.