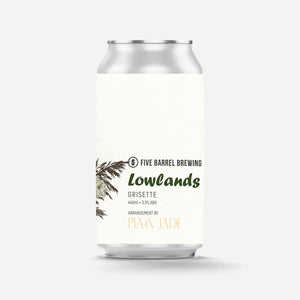 Five Barrel Lowlands Grisette
Grisette is a traditional Belgian farmhouse ale that has been cherished for centuries for its delicate and nuanced profile.
Crisp and gently floral, it offers hints of earthiness and a mild spicy character. The flavour profile unfolds gracefully, exhibiting a delightful blend of citrusy and fruity notes, with a touch of tartness that dances on the taste buds. These flavours are complemented by a subtle graininess and a faint herbal quality, leading to a dry and quenching finish. 
The beer's body is light, possessing a refreshing quality that makes it a perfect choice for warm spring days. 3.5% ABV