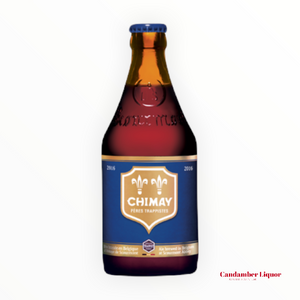 Best before January 2028
This member of the Chimay range is principally distinguished by its character of a strong beer. It is a beer whose fragrance of fresh yeast with a light, flowery rosy touch is especially pleasant. Its relatively dry flavour uncovers a pleasant caramelized note making it an ideal thirst quencher when served chilled (10 to 12 °C / 50 to 54°F). When served at ambient temperature, its full strength is released and it reveals its richness of both body and soul. Chimay Blue is a vintage beer that will continue to improve over the years if
stored in a dry and dark place. This top fermented Trappist beer, refermented in
the keg, is neither filtered nor pasteurized.