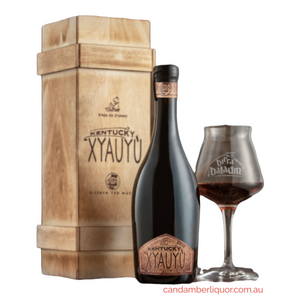 Birra Baladin Xyauyu Kentucky Tobacco Barleywine 2017 (Italy)
A barley wine with a dark red, bright color and no head. The scents of tobacco and caramel immediately emerge, with a final light touch of vanilla.
When sipped, the wood component stands out and supports the notes of tobacco, which strike a good balance with the hints of nuts and dark chocolate.
14% ABV
Superbly presented in a timber gift box with tasting notes and re-usable cork.