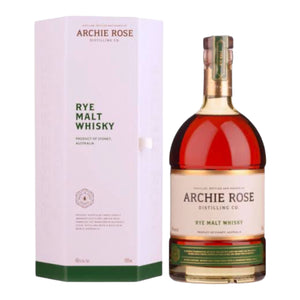 Archie Rose Rye Malt Whisky
World's Best Rye Whisky - World Whiskies Awards 2020
To create this truly unique whisky, Archie Rose selectively sourced rare malted rye and the finest malted barley from progressive malt houses, paired them with virgin American oak casks air-dried for 36 months and let it all mature in the maritime air of coastal Sydney.
Their preference for malted rye over the far more commonly used unmalted rye affords this whisky a point of distinction evident upon the very first sip. This layered, aromatic spirit offers notes of spiced custard, ginger, stone fruit and baked apple pie with a fresh herbal finish that lingers on the palate.
You're invite you to enjoy this magnificent Rye Malt Whisky in the spirit it was created: to be savoured in good company and served the way you like.