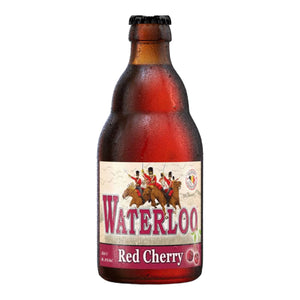 Timmermans Waterloo Red Cherry - Belgium
Waterloo Red Cherry is a perfect blend between a brown beer and natural cherry juice, resulting into a balanced red fruit beer with a subtle lemon touch. The lambic used is brewed by Timmermans, the oldest lambic brewery in the world (1702).

COLOUR
Bright cherry colour and nice delicate head.
TASTE
Typical elements : Cherry, Almond. Taste the natural sour cherries, that real Lambic balances with explosive sweet cherry juice. With notes of almond and red apples, THE fruity beer waiting to be discovered. 8% ABV