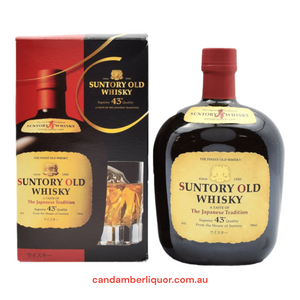 Suntory Old Whisky (Japan)
Suntory Old whisky is a series of whiskies from Suntory, first released in the 1950s when it was considered the classiest of all of Suntory's whiskies.

Labeled "The Finest Old Whisky" and "A Taste of Japanese Tradition," this is a beautifully presented bottle of Suntory's finest blended Japanese malt whisky. Perfect for casual sipping. Enjoy straight or on the rocks.

Nose: Soft malt, bananas, honey, a touch of vanilla.

Palate: Smooth honey with vanilla wood notes.

Finish: Lasting with a creamy zest to the end.