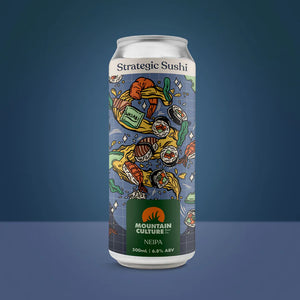 Mountain Culture Strategic Sushi NEIPA
Attempting to undertake a long day harvesting hops followed by a long night sampling those hops in liquid form on an empty stomach is just silly. Grabbing takeaway sushi isn't just smart, it's strategic.
There's a lose connection between that idea and Mountain Culture strategically placing flaked oats and wheat throughout the malt bill to amp up the silky texture, helping each mouthful slide away like freshly prepared unagi.
The hops in this NEIPA shine a spotlight on some of the more citrusy hops they enjoy experimenting with - Centennial, Citra and Idaho-7 - for orange, lemon and lime flavours.

Best served with pickled ginger and an eye-watering hit of wasabi.
6.7% ABV