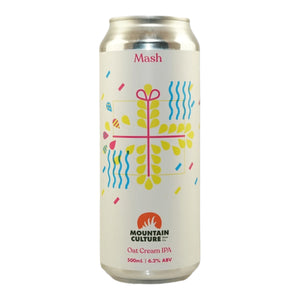 Mountain Culture Mash Oat Cream IPA
4th Birthday beer! This year Mountain Culture invested in a state-of-the-art 4-vessel German engineered brewhouse and wanted to make it a part of the celebrations. So, for a short time on an exciting day at the end of September, four beers sat in the four vessels of the brewhouse at the exact same time.
Now, you're holding one of the four beers, the one that celebrates their love of Oat Cream IPAs. They've dry hopped this with the four hops that have impressed them the most this year in oat creams - Mosaic, Galaxy, Cashmere and Sabro.
Enjoy the celebration and enjoy your beer!
Contains lactose. 6.2% ABV