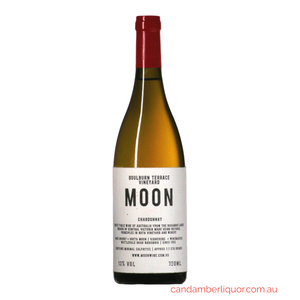 Moon Chardonnay 2020 - Nagambie Lakes, Victoria
Crisp natural acid, restrained fruit, a succession of rich savoury notes and textures, minimal oak, gentle tannins, long finish.
The fruit was picked early enough to retain leanness and elegance, but ripe enough to give a moderately full flavour and body to the wine.
Half the juice was fermented in old French barriques, allowing spontaneous fermentation by wild yeasts. It was then left in the fermentation barrels on yeast lees with occasional stirring for the best part of a year to build richness and complexity. The other half was fermented in tank to maximise freshness.
After racking from lees and combining the parts, the wine was allowed to clarify naturally before being gravity bottled with no fining or other treatments, under Diam corks. A small amount of Sulphur was added at bottling. Alcohol is 13.5%