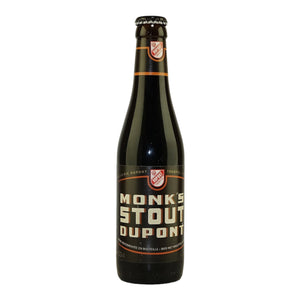 Brasserie Dupont Monk's Stout Dupont - Belgium
Made using roasted malts, Monk's Stout Dupont was first made in the 1950s in their farm-brewery and decided to revive the recipe 60 years later to pay tribute to it. Without an updated flavour, it still has its original name and look.
This very dark beer has lovely aromas of chocolate and coffee, introduced by the use of special roasted malts.
There is a consistent freshness thanks to the citrus notes from the hops. There is no sweetness on the palate, but rather a clean, marked bitterness; beautifully thirst-quenching.
Best served at cellar temperature (12°C) or slightly chilled. Monk's Stout Dupont goes down particularly well with shellfish, sushi, and blue cheese. 5,2% ABV