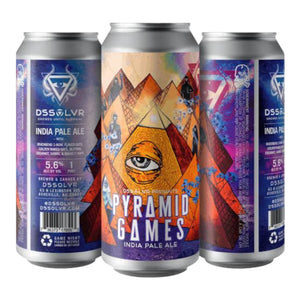 Dssolver Pyramid Games House IPA - North Carolina, USA
Best before: September 2023
An everyday crusher that has a little bit of everything: Fruity, dank, piney, hazy, juicy, crushable. Mashed with a medley of Riverbend 2-Row, Golden Naked Oats, mountains of Flaked Oats, and a touch of Dextrin Malt. Hopped aggressively throughout the boil and multiple dry hops with a phenomenal trio of Sabro, Idaho 7, and Ekuanot. 
A super balanced IPA slathered in Pineapple hard candies, some Pears and miscellaneous soft stone fruit, cold Pina Coladas in your cup, and just enough dankness to tie it all together. 5.6% ABV

Caution: This batch of cans are highly pressurised and will overflow when opening.