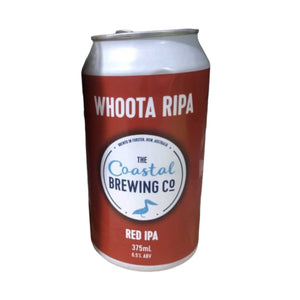 Coastal Brewing Co Whoota Red IPA
Hoppy and bitter with an ABV of 6.5% this Red IPA balances the sweet caramel / malt of
an amber / red ale and the hop-forward flavours and aromas of an IPA. Brewed with
Eureka, Cascade and Citra hops and generously dry hopped this IPA is flavourful and very
drinkable. Named after Whoota Whoota lookout in Wallingat National Park which offers
breathtaking views - in one direction over vast stretches of eucalypt forest and in the
other direction over Wallis Lake and the NSW mid-North Coast coastline.