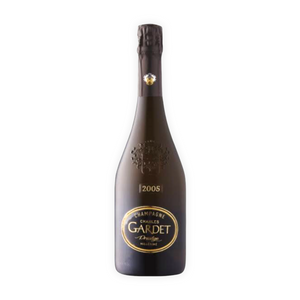 Gardet Champagne "Charles Gardet" 2005 (France)
Blend of exceptional wines, the Prestige Charles Gardet is a shining example of the House's traditional know how. This Vintage 2005 particularly expresses itself by the structure and uprightness of its aromas.
Chardonnay 70% Pinot Noir 30%. Bottle Aged on Lees for at least 12 years. Dosage 6 g/L
Optimal serving temperature: 8 to 10°C (46 to 50°F)
Colour: Pale gold yellow with silver glows; lively and joyful bubbles.
Nose: Marked and expressive; Stewed fruit notes (tarte tatin, caramelized apricot pie); A hint of minerality and dry fruits; Robust, generous, strong.
Taste: Freshness and structure. Dry fruits, hazelnut and toasted bread. Ripe yellow fruits, grapefruit. Very soft finish, mineral notes, aromatic persistence. Elegant, harmonious and balanced texture.
Fine cuisine pairings: Spiny-lobster tails, grilled John Dory, salt-crusted bass. Or as a celebratory drink for prestigious occasions.